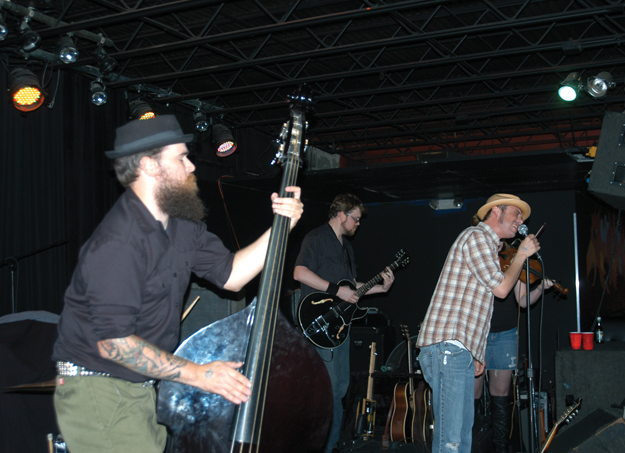 This article (slightly revised) is available in English here
Strawfoot är från St. Louis, Missouri och bildades år 2004. Det var från början menat som ett studioprojekt, men istället blev det ett band som levde vidare. Bandnamnet kommer från en gammal soldatsång från amerikanska inbördeskriget. Soldaterna kunde inte skilja höger från vänster så befälen lät binda (hay) på soldatens vänsterfot och (straw) på högerfot. Då kunde de marschera: "Hay-foot, straw-foot, hay-foot, straw-foot". Nya rekryter kallades också för "strawfoot". Bandnamnet är också en symbol för att marschera på här i livet. Strawfoot består av Marcus Eder, mandolin och sång (enligt uppgift en avlägsen släkting till Mark Twain), Steve Simmons (gitarr), Brian Bauer (banjo och sång), Wesley Jones (bas), Jennifer Kube (fiol) och John Joern (trummor). Bandet leds av "Reverend" Marcus, bandet benämns ibland "Congregation" och medlemmarna kallas ibland "Brother" and "Sister" följt av förnamn. Medlemsbyten har skett mellan första och andra skivan samt nyligen. Den nuvarande line-upen är något oklar.
Strawfoot har hittills gett ut två skivor "Chasing Locusts" (2007) och "How We Prospered" (2009). På första skivan finns en extremt minimalistisk (plus en hårdare) version av "Wayfarin Stranger" som t.o.m. får 16 Horsepower's version att låta något överproducerad. När de ska beskriva vad deras musik (och texter) handlar om på den andra skivan säger de själva "an album full of rusty shovels, broken crowns, chain shaking, angry forefathers, invisible men, crooked necks, self destruction and the black plague, among other things". Och det är nog en ganska uttömmande beskrivning. Musiken är en korsning mellan 16 Horsepower och The Pogues. Den har inslag av burlesk kabarémusik och av, hör och häpna, s.k. pubrock. Banjo, mandolin och fiol har en framträdande plats. Soundet betecknas som "Candy-Coated Salvation and Eternal Damnation". De båda skivorna gav de ut på egen hand på ett litet oberoende skivbolag. De är i dag utgångna och mycket svåra (och dyra) att få tag i. Jag har sökt dem med stor energi och till slut lyckats att få tag på båda skivorna. "Chasing Locusts" hittade jag av en slump begagnad på amerikanska Amazon. "How We Prospered" var ännu svårare. Jag hade dammsugit nätet dagligen i över ett år. Till slut hittade jag cd:n i en skivaffär i St: Louis, Missouri - var annars? Strawfoot har med en låt (Damnation Way) på en av de fyra kompilationerna med The Best of Dark Roots från Devils Ruin Records (Rodentia I). Det är en kvalitetsstämpel.
Strawfoot har bytt ut flera medlemmar och instrument. Reverend Marcus vill samtidigt förändra inriktningen radikalt. På sin blogg skriver han i september 2012: "The old Strawfoot started writing a third album a while back, titled Swansong. And it seemed to everyone in the band that it would be just that. It was shaping up to be a good, solid follow up to How We Prospered, with songs of treason and the assassination of Abe Lincoln, among other subjects…But we just couldn't make it to the finish line before hitting the wall. Only a few select songs survived, the rest falling into home recordings and folklore. But, just as we did in the previous two albums, we built our songs around our genre, rather than who we really were. And by the time we got to Swansong, it felt a little inauthentic. It felt like we were trying to produce another Prospered, rather than really growing.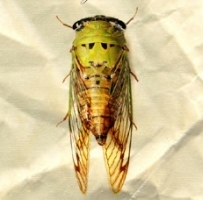 This all changed in the blink of an eye, when my band—and life—suddenly crumbled around me, desperately crying out to be rebuilt from the ground up. And that's what's different this time around. What we're creating is going to be special. Honest. We're shedding the whiskey drenched cliches and trappings we began falling into musically, and are working hard to make something…true. As in our past albums, the words are still mine. But this time, they're a lot more personal. They're real. When we wrote for our last two albums, the band was determined to record only what we could play live. This time, we're breaking down our songs, arranging them, filling them out, stripping them down and spinning them around on their heads. We're bringing in guest musicians and taking advantage of the opportunity to do more than what you see on stage. This album is taking a lot longer, because we're more invested in every level of it. We understand that 1000 Tragedies has the potential to be something very, very special. We're nearly finished writing it, at long last."
Jag är lite skeptisk till den nya inriktningen som aviserats. De låg (och lät) helt rätt på de två första skivorna. Enligt uppgift på nätet har de nu lämnat sina mörka bluegrassrötter och rört sig mot "zigenar-swing". Agressiviteten ska dock finnas kvar. Jag kommer dock att följa upp "1000 Tragedies" om och när den väl kommer.
Omslagen är mycket snygga. På omslaget till första skivan "Chasing Locusts": en "kraniepumpa" i högtidsdräkt mot en olivgrön bakgrund. Omslaget till "Chasing Locusts" är förmodligen designat av Reverend Marcus Eder (det finns ingen uppgift). På omslaget till andra skivan "How We Prospered": Bandet i svarta sorgkläder i färd med att förätta en begravning fotade nerifrån kistan. Omslaget till "How We Prospered" är designat av Reverend Marcus Eder.

Nedan följer ett förslag till en cd-kompilation innehållande det bästa av de två studioalbumen (i kronologisk ordning).
| | | |
| --- | --- | --- |
| Nr | Låt | Album |
| 1 | Wayfarin Stranger | Chasing Locusts |
| 2 | Cursed Neck | Chasing Locusts |
| 3 | Strawfoot Waltz | Chasing Locusts |
| 4 | Damnation Way | Chasing Locusts |
| 5 | Cloth | Chasing Locusts |
| 6 | Fiddle And Jug | Chasing Locusts |
| 7 | Effigy | Chasing Locusts |
| 8 | Wayfarin Stranger | Chasing Locusts |
| 9 | More Of Dread | How We Prospered |
| 10 | Invisible Man | How We Prospered |
| 11 | Ramblin Man | How We Prospered |
| 12 | Hole | How We Prospered |
| 13 | Sinner's Lament | How We Prospered |
| 14 | Seven Ways | How We Prospered |
| 15 | Independence Day | How We Prospered |
| 16 | Churchyard Cough | How We Prospered |
| 17 | Funeral March | How We Prospered |
Bästa skiva är Chasing Locusts.
Bästa låtar är Wayfarin Stranger, Damnation Way, Effigy, More Of Dread, Sinner's Lament, Independence Day och Funeral March.
Senast ändrad
Högst upp