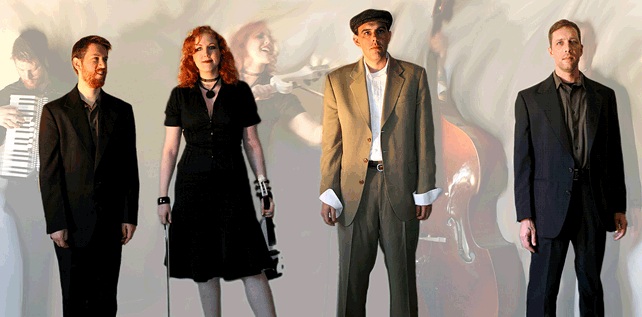 This article (slightly revised) is available in English here
American Sinner kommer från Washington, DC. Se deras hemsida http://www.americansinner.com/ Det blir insortering under East. Det är ett välkommet bidrag, eftersom det med de kvalitetskrav som jag har har ställt upp inte finns särskilt många band under detta väderstreck. American Sinner är ett fullständigt genialt bandnamn. Historien bakom namnet dryper av ironi. Grundaren (Scott Trowbridge) började kalla sig "American Sinner" som en sardonisk kommentar till sina erfarenheter av att ha vuxit upp i djupaste Södern efter att ha konverterat till hinduismen i tonåren. Han fick ofta höra att han skulle hamna i helvetet, trots att han i sitt jobb dagligen ägnade sig åt hjälpa fattiga människor, arbete mot droger, vårdnadsfrågor och omhändertagande av barn, våld i nära relationer, övergrepp och liknande. Det är en intressant paradox. Det som i en religion (hinduismen) leder till god karma leder raka spåret till helvetet i en annan mer närliggande religion (kristendomen). Pseudonymen "American Sinner" använde han i olika sammanhang och det blev senare hans artistnamn. När "bandet" bildades i slutet av 2004 övertogs namnet av hela bandet. I vissa sammanhang benämner de också sig själva med förnamn och det gemensamma efternamnet (Sinner). American Sinner bildades av Scott Trowbridge (sång och dragspel), Doug Pettway (bas), Michael Prince (trummor) och Krissy Downing (fiol). Från början fanns även en gitarrist med, Sam Levy. Han slutade 2005 i samband med en flytt till North Carolina av professionella och privata skäl. Efter några år ersattes Doug Pettway av Chuck Rainville på bas. Grundaren Scott Trowbridge har ett förflutet som sångare och basist i Blackgrass. Efter att Blackgrass splittrats och Scott Trowbridge flytttat till Washington DC för juridikstudier sökte han ett nytt band. Han satte in en rubricerad radannons i en tidning där "drums" och "a lead instrument" söktes. I ett mejl utvecklar Scott Trowbridge hur det gick till: "Actually, that was funny. I had run a couple ads that were being flagged by people that thought they were jokes because I was asking for people for an accordion metal band or something like that. I had to add some demo mp3s so that people would know I was serious." American Sinner etiketteras som "gothic americana", "gothic folk", "gulag rock", "death accordion", "accordion & violin death metal", "accordion music for people that like goth, punk, grunge, folk etc." Jag har även stött på uttrycket "This ain't your Großmutter's accordion music" som är en liten parafras till .357 String Band ("This ain't your grandaddy's bluegrass"). American Sinner är svårplacerat genremässigt. De är alldeles för mycket country för att kunna kallas rock och alldeles för mycket rock för att kunna kallas country. Så kan man gå vidare i all oändlighet och diskutera bandet i förhållande till olika genrer. För att komplicera det ytterligare har American Sinner vissa influenser från östeuropeisk musik. Som tur är finns "gothic country" - ett inte alltid väldefinierat men inkluderande samlingsnamn för amerikansk kvalitetsmusik.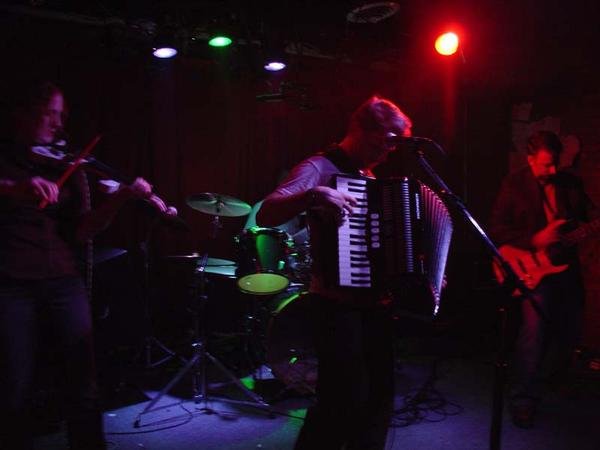 Det finns beröringspunkter mellan American Sinner och Blackgrass. I mejlet utvecklar Scott Trowbridge likheter och skillnader mellan American Sinner och Blackgrass. "I think the lyrics often come from similar places. Also, I think both bands share the sometimes uncomfortable mixture of influences, most strongly punk, metal and American folk music. I think without trying at all to sound like 'world music', I think both bands had a lot of international influence... I'm not sure how much that comes across easily, but I could point you to a few things. The intro to Blow up a Storm is basically Banjo-sitar style. Always trying to get the guitars to sound more like West African stuff like Ali Farka Touré or Orchestra Baobab. You'll definitely hear that guitar tone on the upcoming album/movie. Differences...I don't know. More banjo in Blackgrass. Blackgrass band members were a lot more interested in jamming over repeated parts and that kept song progressions a bit more predictable I think. The beats were more straightforward which I think is a plus and a minus, depending on my mood." American Sinner och Blackgrass överlappar också vad gäller låtkatalog. Det handlar både om covers och egna låtar. Både banden har spelat in mördarballaden "Knoxville Girl" och hymnen "Wayfaring Stranger". "Tiny Ghost", "Big House (Blues)", "Hope", "Lillies" och "Like A Clock" har tidigare spelats in av Blackgrass. Det finns både likheter och skillnader i tolkningarna, men dessa ligger utanför denna artikel. American Sinner har spelat in flera covers. "Covers" är för övrigt en rätt missvisande term i detta sammanhang, eftersom bandet lagt ned tid, tanke och omsorg på att göra egna och annorlunda tolkningar. Det är befriande att covers inte spelas mekaniskt rakt upp och ned. Det är tyvärr inte särskilt ofta som detta är fallet i musikens värld i allmänhet eller inom "gothic country" i synnerhet. Samtidigt står American Sinner mycket stadigt på eget producerat material.
American Sinner tillhör utan tvekan de allra hårdaste banden inom "gothic country". Samtidigt är det vackert. Musiken är väl arrangerad och producerad. När det gäller den egna låtskrivandet kommer oftast idé och tema först sedan texter följt av arrangemang. I mejlet utvecklar Scott Trowbridge hur det brukar gå till: "And the lyrics usually go through many revisions to include the most double entendres possible and to include obscure historic references. For the next release, we plan to provide annotations, both for listeners and for alien archeologists of the future; especially since, some of the new songs have involved extensive research and trips to different locations around the U.S." Scott Trowbridge har för övrigt en mycket bra sångröst där texterna artikuleras tydligt. Texterna är mörka. I mejlet utvecklar Scott Trowbridge hur den kreativa processen ser ut för att hitta teman, stämningslägen och uttryck: "I have seen a lot of unhappy things as I've worked in child abuse and neglect prevention for many years. I've also seen the resilience of people, which is also inspiring, but for me at least, doesn't translate to positive sounding things, even if I would characterize them as positive on the whole. Some of the horrible things I see are what you'd expect from knowing that, physical abuse, sexual abuse, etc. But part of the depressing nature of that is how low a priority people are in U.S. politics. We spend more on keeping rich people rich here than on making sure kids have enough to eat or decent schools. That is what the song Temptation is about...and eminent domain."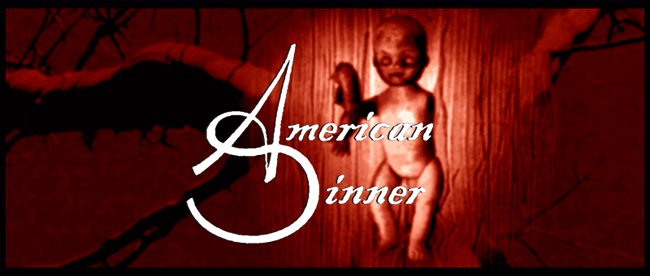 Jag har under min triangulering av "gothic country"-genren tyvärr kunnat konstatera att en del band är mer upptagna av sociala medier (hemsida, Facebook, Myspace etc.) än med sin musik. Men för American Sinner förhåller det sig precis tvärtom. Bandets aktiviteter på sociala medier är låga och har minskat över tid. I mejlet utvecklar Scott Trowbridge bandets inställning: "We are actually just busy (and happy) with recording. We'll orient ourselves to promotion again, but, for now, we do what we feel we need to do... Which is write and record. I think if we were more generally-concerned with social media we'd be posting updates on the recording process. Also, social media ain't country, so posting too much could cramp our style...maybe we'll get an intern." Denna ovanliga inställning är intressant och är ett bra exempel på huvudsaken (musiken) i förhållande till bisaken (marknadsföringen). En del band inom genren har tyvärr förväxlat huvud- och bisak. För min egen del skrattade jag hejdlöst åt formuleringen "social media ain't country". Den har mycket goda förutsättningar att bli en fin "bumper sticker". Jag tar med mig denna förmedlade visdom i det fortsatta arbetet med artikelserien.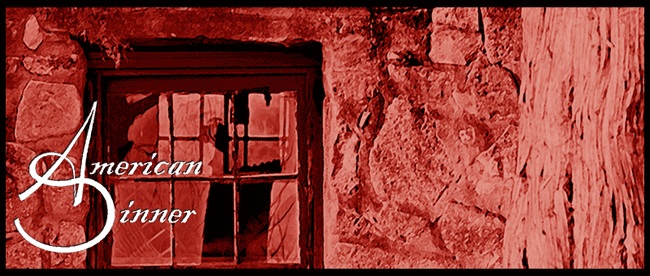 American Sinner har gjort två skivor "Revival" (2006) och "José Arcadio Is Dead" (2009). Skivorna är utgivna på skivbolaget Yahrr!!! Båda skivorna finns att köpa på bandets hemsida. Mycket prisvärda. Omslagen är helt i linje med musiken. På omslaget till Revival: ett skelett i en vacker lilja. Omslaget är skapat av Krissy Downing. På omslaget till José Arcadio Is Dead: en man liggande på ett golv med blodet rinnande från huvudet. Det framgår dock inte av albumet vem som gjort omslaget. Titeln José Arcadio Is Dead" syftar på en av personerna i Gabriel Garcia Marquez mästerverk "Hundra år av ensamhet". Det finns också ett citat ur boken i "liner notes" på skivan. American Sinner planerar en kombination av ett nytt album och kortfilm. I mejlet utvecklar Scott Trowbridge tankarna bakom idén: "We are working on a combination audio album and short movie. We've filmed in two locations in the U.S. already, Ohio and Florida. That is where two of the stories are set, ghost stories. Most of the audio is done, maybe 90%, but the video is probably more like 10% done. I don't know if we will release them separately." Scott Trowbridge spelar vid sidan av American Sinner från och till med Will D. McB. De träffades redan 1994, se www.fundamnmentalists.com De gav nyligen ut ett akustiskt hyllningsalbum till Glenn Danzig a.k.a. "Evil Elvis". Vad är prognosen för bandet? Som vanligt är det svårt att bedöma cirka 670 mil därifrån, men min bedömning är att det råder stabila förutsättningar och hög leveranssäkerhet samt att det kommer mer bra musik från American Sinner framöver.
| | | | |
| --- | --- | --- | --- |
| | | | |
Nedan följer ett förslag på en cd-kompilation.
| | | |
| --- | --- | --- |
| Nr | Låt | Album |
| 1 | 3 Kings | Revival |
| 2 | Hope | Revival |
| 3 | Toys Go Winding Down | Revival |
| 4 | Untitled | Revival |
| 5 | Knoxville Girl | Revival |
| 6 | Lillies | Revival |
| 7 | Big House | Revival |
| 8 | Wayfaring Stranger | Revival |
| 9 | Tiny Ghost | Revival |
| 10 | Bright Smile | Revival |
| 11 | Lazarus | Revival |
| 12 | Temptation | José Arcadio Is Dead |
| 13 | Bones | José Arcadio Is Dead |
| 14 | Center | José Arcadio Is Dead |
| 15 | Mask | José Arcadio Is Dead |
| 16 | Like A Clock | José Arcadio Is Dead |
| 17 | Peter P. Pumpkineater | José Arcadio Is Dead |
| 18 | Henry Lee | José Arcadio Is Dead |
| 19 | I Just Burned The Lord's House Down | José Arcadio Is Dead |
| 20 | Flowers | José Arcadio Is Dead |
| 21 | Waiting Around To Die | José Arcadio Is Dead |
Bästa skiva är Revival.
Bästa låtar är Hope, Knoxville Girl, Lillies, Wayfaring Stranger, Tiny Ghost, Center, Henry Lee, I Just Burned The Lord's House Down, Flowers och Waiting Around To Die.
Senast ändrad
Högst upp